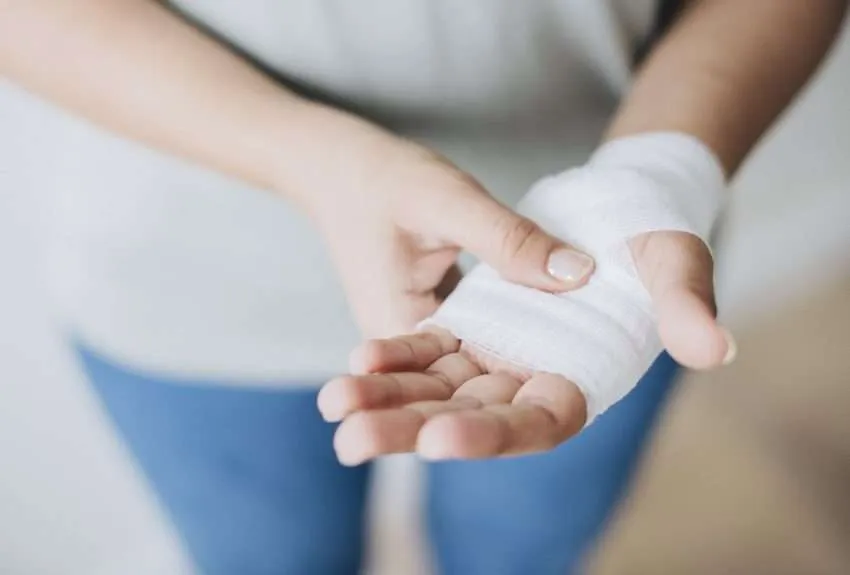 One of the most interesting and amazing facts about lasers is that not only are they safe and effective for pain relief, but science has discovered that lasers can also successfully repair and regenerate tissue! The photons of light that lasers produce are readily absorbed through the skin, penetrating deeply into tissue and converting light into signals that induce a wide range of beneficial biochemical changes in the cells. "This process results in beneficial therapeutic outcomes including but not limited to the alleviation of pain or inflammation, immunomodulation, and pro-motion of wound healing and tissue regeneration."[1]
Lasers Induce and Accelerate Tissue Repair
At some point in life, whether from injury, surgery, acute illness, or chronic diseases such as diabetes, many people experience having a wound that requires more extensive tissue repair. If you have a wound or injury that needs healing, or have patients who do, Laser Therapy is a safe and effective therapeutic modality that significantly helps induce and accelerate cell growth and the repair of damaged tissues for faster healing and the return to functionality.
Science agrees that "Low level laser (LLL) therapy has been an important method to induce tissue repair…."[2] Clinical studies report that Laser Therapy has sped up the repair of wounds that are usually slow and difficult to heal, such as ulcers. Laser Therapy has proved significant "…in the healing of different kind of ulcers, including venous, pressure and diabetic foot ulcers."[3] A 2013 scientific study on diabetes and wound healing concluded that Laser Therapy, "…can be an important tool in speeding up the healing process as well as alleviating pain and inflammation."[4] The author further states that, "Due to its stimulatory effect and no reported side effects, Laser Therapy has been used to treat chronic wounds, including diabetic ulcers….This has led to an improvement in the quality of patient's lives."[5]
Laser Therapy Benefits Wound Healing
Laser Therapy "receives increasing interest in the fields of tissue regeneration and wound healing"[6] for good reason — Laser Therapy has "…analgesic, vasodilating and anti-inflammatory properties."[7] that benefit key elements of the tissue repair/wound healing process. In damaged tissue, Laser Therapy increases production of ATP, collagen, and antioxidants; reduces inflammation; intensifies white blood cell activity; and helps form new capillaries. Veins and arteries around the wound are widened, allowing more blood flow to the injured area so that nutrients and oxygen can be increased and cellular debris can be removed. In addition, the formation of scar tissue is reduced. These important tissue repair processes are aided and accelerated by Laser Therapy, so that wounds are closed and burns are healed more rapidly.
Studies Verify Laser Therapy
Many peer-reviewed scientific studies on http://www.pubmed.gov confirm that Laser Therapy is highly effective for tissue repair, and can speed up the healing process. Laser Therapy can be used as both an adjunct and a stand-alone treatment. Here are the results of several studies:
[Please note that "LLLT" stands for "low level Laser Therapy." It is a common acronym used to describe the utilization of lasers for clinical therapy. It is not unique to any specific class of laser.]
A 2015 study of diabetic foot ulcers found that Laser Therapy can possibly prevent amputations: "The low level laser seems to be an efficient method, viable, painless and of low cost in the tissue repair of ulcers in the diabetic foot, the biomodulation and the analgesic effect are significant for the reestablishment of these patients, preventing possible amputations, improving the quality of life and favoring a lower financial impact in the resources destined to this clinical institution".[8]
A later 2018 study of diabetic patients with chronic foot wounds concluded that: "The use of LLLT on chronic wounds in a diabetic foot demonstrated efficacy on the progression of the tissue repair process in a short period."[9]
A 2018 study of skin graft surgery on patients with grade 3 burn ulcers found that LLLT significantly helped the healing of the donor sites: "The results showed that local irradiation of red laser accelerates wound healing process significantly."[10]
The Bottom Line
If you or a loved one require any type of tissue repair, Laser Therapy is far more effective for healing support than merely dressing the damaged area. Lasers can be used by all types of health practitioners to treat acute and chronic pain, reduce inflammation, increase metabolic activity, and improve nerve function and vascular activity, as well as accelerate tissue repair and cell growth — providing a better quality of life to all of your patients. The purchase of a single laser can make a big difference in your clinic! Contact Rob Berman at Berman Partners at 860-707-4220 to learn more.
---
[1] Tsai SR, Hamblin MR. Biological effects and medical applications of infrared radiation. J Photochem Photobiol B. 2017 May;170:197-207. doi: 10.1016/j.jphotobiol.2017.04.014. Epub 2017 Apr 13. PMID: 28441605; PMCID: PMC5505738, p.1.
[2] Da Ré Guerra F, Vieira CP, Marques PP, Oliveira LP, Pimentel ER. Low level laser therapy accelerates the extracellular matrix reorganization of inflamed tendon. Tissue Cell. 2017 Aug;49(4):483-488. doi: 10.1016/j.tice.2017.05.006. Epub 2017 Jun 3. PMID: 28606650. Abstract.
[3] Kazemikhoo N, Vaghardoost R, Dahmardehei M, Mokmeli S, Momeni M, Nilforoushzadeh MA, Ansari F, Razagi MR, Razagi Z, Amirkhani MA, Masjedi MR. Evaluation of the Effects of Low Level Laser Therapy on the Healing Process After Skin Graft Surgery in Burned Patients (A Randomized Clinical Trial). J Lasers Med Sci. 2018 Spring;9(2):139-143. doi: 10.15171/jlms.2018.26. Epub 2018 Mar 20. PMID: 30026900; PMCID: PMC6046389, p. 1.
[4] Houreld NN. Shedding light on a new treatment for diabetic wound healing: a review on phototherapy. ScientificWorldJournal. 2014 Jan 6;2014:398412. doi: 10.1155/2014/398412. PMID: 24511283; PMCID: PMC3913345, p. 10.
[5] Ibid.
[6] Rohringer S, Holnthoner W, Chaudary S, Slezak P, Priglinger E, Strassl M, Pill K, Mühleder S, Redl H, Dungel P. The impact of wavelengths of LED light-therapy on endothelial cells. Sci Rep. 2017 Sep 6;7(1):10700. doi: 10.1038/s41598-017-11061-y. PMID: 28878330; PMCID: PMC5587748. Abstract.
[7] Rashidi S, Yadollahpour A, Mirzaiyan M. Low Level Laser Therapy for the Treatment of Chronic Wound: Clinical Considerations. Biomed Pharmacol J 2015;8(2), p. 1124.
[8] Feitosa MC, Carvalho AF, Feitosa VC, Coelho IM, Oliveira RA, Arisawa EÂ. Effects of the Low-Level Laser Therapy (LLLT) in the process of healing diabetic foot ulcers. Acta Cir Bras. 2015 Dec;30(12):852-7. doi: 10.1590/S0102-865020150120000010. PMID: 26735058, p.5.
[9] de Alencar Fonseca Santos J, Campelo MBD, de Oliveira RA, Nicolau RA, Rezende VEA, Arisawa EÂL. Effects of Low-Power Light Therapy on the Tissue Repair Process of Chronic Wounds in Diabetic Feet. Photomed Laser Surg. 2018 Jun;36(6):298-304. doi: 10.1089/pho.2018.4455. PMID: 29882738. Abstract.
[10] Vaghardoost R, Momeni M, Kazemikhoo N, Mokmeli S, Dahmardehei M, Ansari F, Nilforoushzadeh MA, Sabr Joo P, Mey Abadi S, Naderi Gharagheshlagh S, Sassani S. Effect of low-level laser therapy on the healing process of donor site in patients with grade 3 burn ulcer after skin graft surgery (a randomized clinical trial). Lasers Med Sci. 2018 Apr;33(3):603-607. doi: 10.1007/s10103-017-2430-4. Epub 2018 Jan 24. PMID: 29368069. Abstract.
Image Credit: <ahref="https://www.freepik.com/free-photo/woman-with-gauze-bandage-wrapped-around-her-hand_3469625.htm#query=wound%20healing&position=25&from_view=search&track=sph">Image by rawpixel.com</a> on Freepik